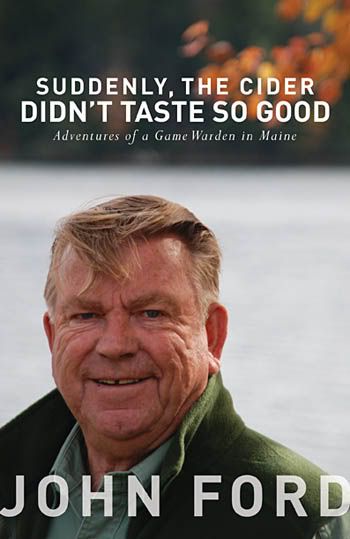 Game wardens have pretty exciting jobs. They are on the front lines of law enforcement in the forests and fields, dealing with everything from poachers to wounded animals to search and rescue efforts. That's probably why, throughout recent history, folks have been fascinated by stories written by and about wardens.
John Ford was a Maine game warden in Waldo County for 20 years, and he sure has plenty of stories to tell. He had the foresight to document his experiences in a journal throughout his career, making it much easier to recall the details of each episode. Every month, Ford writes a column for the Northwoods Sporting Journal, sharing another of his tales about experiences he had on the job. The column is very well received, and it's due time Ford gathered these stories together in book form for us to enjoy.
"Suddenly, The Cider Didn't Taste So Good" is a collection of 35 stories that highlight notable events in John Ford's career as a Maine game warden. The tales run the gamut from catching night hunters to raising orphaned animals. In one story Ford is tracking down escaped convicts in the Maine woods, while in another he's scolded by some old ladies on the side of the highway!
The stories in Ford's book are short and to the point. He is a great story teller, and doesn't waste ink. I enjoy reading this style of writing, and seldom put the book down until I finished it. The wide variety of topics also hold the reader's attention: you never know what you'll read about next.
John really tells all in this book. He isn't afraid to tell of his cleverness in getting the upper hand on poachers. For instance, he recalls a time when he and a fellow warden outsmarted some deer drivers by dressing down and joining the drive. In another story, he slyly tricked a poacher into coming in to the police station to be arrested. And several times, he seemed to materialize in the woods like a ghost and scared the daylights out of folks breaking the law.
At the same time, Ford openly shares stories where he may not look his best. In writing a ticket for a man boating without a life jacket, the old fellow pointed out that warden Ford didn't have a life jacket of his own. Ford once snuck up on a tree stand where he believed a man was illegally hunting, only to find that his hunter was actually an orange hat pinned up to a tree. And the cider story…..well, you'd better just read that one for yourself!
Other stories tell of large sting operations, close calls with death, and the relationship between warden and poacher in a small community where professional adversaries can be personal friends. "Suddenly, The Cider Didn't Taste So Good" is a great read. It's Ford's first book, but I can't imagine it being his last.