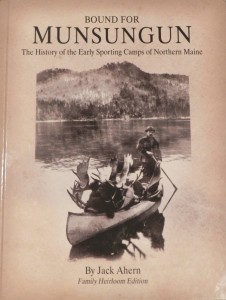 Reprinted from the April 2012 issue of the Northwoods Sporting Journal.
The woods of northern Maine lost another legend this winter. Jim Carter, the "Man from Munsungan", was a well known hunter, angler, trapper and all around woodsman who lived and loved the Munsungan country. He spent most of his time at his camp by the outlet of Little Munsungan Lake in the headwaters of the Aroostook River. Jim passed away in December, but his memory will live on for a very long time.
I still remember a few conversations with Jim when I worked on an angler creel survey of the upper Aroostook for Maine IF&W and would stop by his camp. The man was certainly memorable, but I've long since forgotten many of the things he told me. I wish I would have written down more of what he had to say.
When folks pass on, it's often surprising how much history is lost when they're no longer around to share their memories. That's what makes historic literature so important. The more we can record for future generations, the more they will appreciate and find useful.
Jack Ahern must have been thinking the same thing when he began researching for his book, "Bound for Munsungan: The History of the Early Sporting Camps of Northern Maine". Ahern began visiting the Munsungan country in 1956 when he joined his father on a fishing trip to Milt and Minna Hall's Bradford Camps. Like many other visitors from outside of Maine, this became his paradise, and Jack has returned to the camps for over 50 years.
Ahern soon realized how much incredible history this area contained, and many of the guides and camp owners were more than willing to share their stories. "Bound for Munsungan" was a project long in the making, as Jack evidently spent over 20 years researching the area's history and interviewing its inhabitants. It's a good thing he started when he did, since many who he spoke to while working on the book have since passed.
While it began as an attempt to document the history of Munsungan Lake, it soon became clear to Ahern that the book should encompass the entire upper Aroostook drainage to be complete. So he started with a history of the town of Oxbow, the gateway to the upper Aroostook. He went on to describe the life of legendary woodsman Will Atkins. He then wrote about the Libby sporting camp legacy, the Bradford Camps, and topped things off by including Ray Carter's history of the Munsungan Hunting and Fishing Club.
If you planned to hunt or fish the upper Aroostook in the first half of the 20th century, Oxbow was a critical point on the map. After arriving at the Bangor & Aroostook Railroad's Masardis station, you were shuttled to Oxbow via buggy or, in later years, automobile. Oxbow was where you checked into a hotel (likely the Atkins or Libby hotel) to rest after the first leg of your journey. It was here that you met your guide and he took you on a multi-day trip up the Aroostook River to the sporting camps where you'd stay. The hub of Oxbow had friendly accommodations and a long list of capable Maine guides. In fact, the Libby Hotel register of 1896 listed 15 guides residing in Oxbow. At the top of that list was a man named William Atkins.
Will Atkins may have been the most influential man in the history of Oxbow. Born in 1857, Atkins was reported to be the first to build sporting camps north of Moosehead Lake, on Millinocket Lake in the upper Aroostook River drainage. At his peak, Atkins was operating some 52 sporting camps in the area, a hotel in Oxbow and a thriving taxidermy business. At age 53, he spent a winter fulfilling his dream to trap in the wilderness of northern Canada. He returned home and continued to operate the camps and trap in the Aroostook territory until his death in 1930.
No conversation about the upper Aroostook is complete without mention of the Libby name. C.C. and Melissa built a hotel in Oxbow in 1890 and young Will Libby took great interest in the hunting and fishing business. He and Miles Arbo established sporting camps throughout the territory, and eventually bought out Will Atkins' camps. Today the Libby name is still alive and well in this area. Matt and Ellen Libby run a world class operation based on Millinocket Lake.
The Bradford Camps, named by Milt and Minna Hall, were some of the original camps built by Will Atkins, sold to the Libbys, and then sold to the Halls. Milt and Minna ran a top notch operation there for many years. They sold to the Youlands in 1972, who continued in this success. Today the camps are in the very capable hands of Igor and Karen Sikorsky, who spend most of the year on beautiful Munsungan Lake.
While "Bound for Munsungan" is packed with information from Jack Ahern's painstaking research, it also contains many bonus features. One is a history of the Munsungan Hunting and Fishing Club written by Ray Carter, Jim's father. Ray tells the tale of a group of friends looking for a place to hunt deer in the upper Aroostook in 1928. The group stayed together for over 40 years and eventually built a camp at the outlet of Little Munsungan Lake. Ray recounts the stories of each hunting season with the group. When the club disbanded, Ray purchased the camp and continued to spend much of his time there. He passed away in his sleep while at camp with Jim in 1988. Jim took the place over after a time, and it became his heaven on earth for years.
"Bound for Munsungan" was a labor of love for Jack Ahern, and it's a book that we should all appreciate. It provides a window into the early days of hunting and fishing in northern Maine with its descriptive text and 140 vintage photos. The book is part of the preservation of an outdoor history and culture that's important to so many of us. I encourage you to pick up a copy.
"Bound for Munsungan" is published by Pear Tree Publishing. The first edition came out in 2008 and may be tough to find. The 2009 Family Heirloom edition is a beautiful hardcover with 20 pages of new material. The book can be purchased from Bradford Camps (www.bradfordcamps.com) or Pear Tree Publishing (www.peartreepublishing.net).