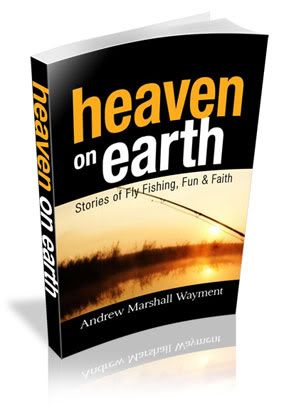 I've recently become acquainted with Andrew M. Wayment's writing as a reader of his "Upland Equations" blog where he writes about all things upland bird hunting. I enjoy Andy's enthusiasm and his writing style, so I was grateful when he gave me the opportunity to review a copy of his first book, "Heaven on Earth: Stories of Fly Fishing, Fun & Faith".
As most fly anglers know, there's a lot more to the sport than just "standing in a river waving a stick", as John Gierach put it. But few of us actually take the time to reflect on our fishing experiences, what they mean to us and how they shape us as humans. By providing a window into his world, Andy's book gets to the heart of fly fishing as it relates to everyday life.
Andy Wayment is an interesting fellow. He's a lawyer by trade, a die-hard hunter and angler, a dedicated family man, and a man of strong Christian faith. The intertwining of all these interests provides a unique background for the variety of stories he shares about his fishing experiences. And in each story, the reader is left with a morsel of truth, a lesson Andy gleaned from his experience and wishes to share.
"Heaven on Earth" is written in a manner that's very easy to read. I think what I appreciate most is Andy's humble writing style. He's not afraid to admit when he's wrong and point out his own mistakes, and at the same time avoids boasting when he's perhaps earned the right to. While some may not enjoy reading all about one individual's fishing stories, I found myself comparing Andy's progression as an angler to my own, and smiling or laughing out loud when recalling similar experiences in my past. I've also had the good fortune of fishing several of the places mentioned in the book. Some pictures of the beautiful scenery and landed trout would have added to the reading experience.
I think most average fly anglers can relate to the stories in "Heaven on Earth", regardless of how much we have in common with Mr. Wayment and the area he fishes. We all have that relative or family friend who taught us how to fly fish. Many have had the father who became incredibly enthusiastic about fly fishing after catching the bug from us.
We've all found ourselves thinking about the damage careless people can do to the rivers and streams we hold dear. We have experienced that progression from bait fishing to fly fishing: a voluntary choice that we're glad we made, though we do not look down on our fellow bait casting friends. We have had the emotional feeling of watching that big fish swim away, whether from voluntary release or a snapped line!
And we've all been made pretty nervous about standing in the open with a fly rod during a lightning storm. One of my favorite lines in the book is from the story "Buster Brown", where Andy states:
Standing in the water with a graphite lightning rod in an electric storm is not the brightest thing one can do.  It's akin to blow drying your hair while you are soaking in the tub.  You may get away with it a few times, but eventually you will get lit up like a Christmas tree.
Simply put, I found it easy to relate to Andy's stories and his outlook on fly fishing in general.  He finds an effective way to mesh his fly fishing with his spiritual faith, providing biblical references and perspectives from outdoor sporting writers along the way.   While the pursuit of trout with a fly rod does different things to different people, I think all can agree there is a certain spiritual aspect to the whole experience.  This book explains that connection quite well, and I found it a joy to read.
"Heaven on Earth" can be purchased on Amazon.com (see link below) or at www.heavenonearthbook.com.