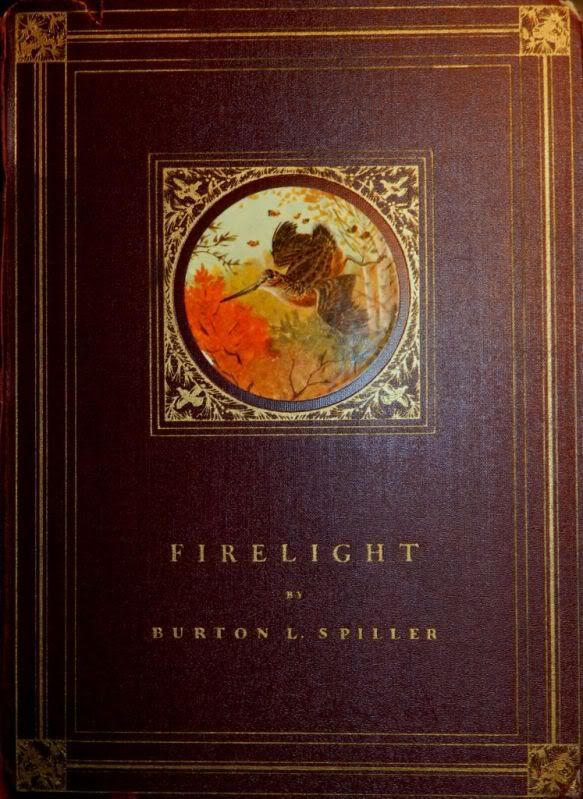 "Firelight" was Burton Spiller's third book, published in 1937 by the Derrydale Press. Unlike many of Spiller's other books, this one is not about grouse hunting. Instead, it's a collection of 10 captivating hunting and fishing stories. Aptly titled, the stories follow the same general format, where Spiller introduces a situation that sets the scene, upon which one of the characters in the story has a tale to tell. Many of these tales are told by the light of an open fire in a lodge or sporting camp, or out in the woods. Here's a recap of the stories:
Dog Days - While at Tracy's lodge out in the backcountry, Spiller is reuniting with some old hunting buddies for the opener of grouse season. After a description of some of the guests, all of which are characters in their own right, the story goes on to tell the tales of two particular folks whose bird dogs got them into quite a bit of trouble during the offseason!
Bear - After a day in the deer woods, Spiller gets the closest he's ever gotten to shooting a black bear. Back in the camp after dark, he shares his story with the other hunters, and the rest of the evening is spent listening to a couple of interesting, humorous bear stories.
The Reef - The first open water of the season on Sebago Lake sees Spiller and his friend Bill out fishing by the big reef along with numerous other anglers in their boats. An old fellow pulls up next to Bill's boat and makes a comment about an old timer who used to fish this water religiously. It's the beginning of another story, this of Steve and Chet, two inseparable fishing pals who had a rough go of it one time.
Smoke Eater - Ken and Burt are trout fishing on the St. Croix River one summer under a smoky haze of a distant fire on the East Branch. The fishing's good and they don't want to go anywhere, but may have to get out. When they get back to their woods camp, a fellow is there to warn them of the fire. While he's there, he tells them a long story of his days as a small town fire chief, and one of the hilarious events that took place in those days. Though it's a bit off the hunting/fishing topic, the story is a good one.
Storm – Larry has a place on a tidal river right next to the ocean, and he's taking Spiller and a couple other friends out for some mackerel and pollock fishing with fly rods. They brave a tough entrance from river to ocean, and have a great morning of fishing. But a storm's picking up. While fighting the wind, waves and tide, they little boat makes it back home safely, but not without some close calls. Back in front of the fire, Larry tells the guys about the most death-defying experience of his younger days, hauling a ship full of lime in rough seas. The boat didn't make it, but the crew did. The end of the story makes for some great reading.
The Loquacious Guild - On a fishing trip to a tributary of the Dead River in western Maine, Spiller has some really tough fishing. Discouraged, he and his guide head back, but on the way a great trout pond is discovered. Spiller keeps it secret for a while, but finally spills the beans. Not long thereafter, the place is crawling with canoes and boats, and is on its way to becoming 'fished out'. While Spiller and his friend sit by a fire on the shore of the crowded lake, they reminisce about how crazy hunters and anglers are about sharing their secret spots, and how the secret never seems to be kept for too long. A couple of great tales follow.
Lost - At Downey's camp in the Maine woods, Spiller and his friend are newcomers this year. A fresh snow makes for great tracking, and the men go out in search of whitetail deer. They separate, and Spiller has a close experience. He gets lost, and doesn't get back to camp for some time. Sometime after dark he makes it back safe, and another round of firelight stories ensue on the topic of getting lost in the woods.
Bull - Carnswell is one of those incredibly unlucky hunting partners. You know, the guy who's out there with you every time but never seems to get the bird. Or you try really hard to push deer to him, but they always take the other trail. For years this had been the case for Carnswell, but Spiller convinces him it might be different up in the Umbagog country. But it's the same old story, with Carnswell missing the perfect chance at the buck through pure bad luck, and Spiller making an incredibly lucky running shot right in front of him. That night by the fire, an old guide relays a story of a man whose luck was just the opposite of Carnswell, and how it drove everyone crazy.
White Deer - This is a rather sad fictional story. A French-Indian trapper has ambitions to be someone big, and he feels that shooting the rare white deer he's spotted earlier in the year will make him known. He pays no attention to the beautiful Indian girl who wants to be his wife. He has more important things to do. It's this attitude that ensures a sad ending for Alcide and his admirer.
Net Profit - Spiller is experiencing a rather harsh case of writer's block, and he decides a fishing trip with his friend Bill might help. The trip proves to be just the ticket, and Burt rapidly cranks out a story in which Bill is the main character. Bill, or Win, as he's known in the story, is so completely obsessed with fishing that he can't seem to focus on anything else, despite the fact that he's getting married soon. Even on the day of the wedding, Win can't help but go to the pool in the brook where the big trout enters each year. The elusive fish is in the pool on this day, and just two hours before he's supposed to be married, Win becomes the only person in six years to hook the monster. On a super light fly rod, the beast may take hours to land, but Win's bride isn't keen on having a dumb old fish ruin her wedding day! The tale comes to a climax when Win is playing the big fish in the brook with a large gathering of onlookers, and the bride, parson and the bride's family shows up. It sure isn't pretty, but you'll have to read the story yourself to find out how it ends!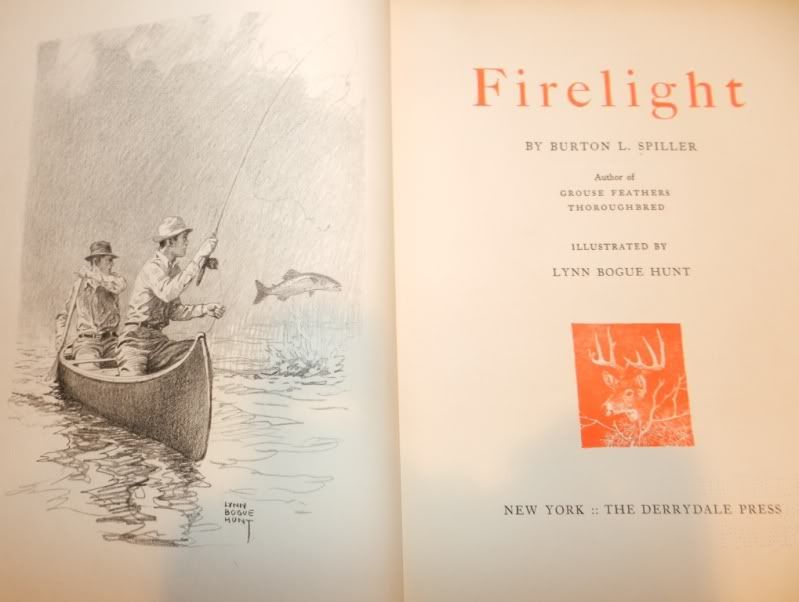 "Firelight" is, in my opinion, one of Burton Spillers best books. It's a different type of Spiller writing than most of the others, being dominated by fictional stories. Though it was only his third book and he had no formal training, Spiller showed impressive story telling skills throughout. His fictional tales in "Firelight" are some of the best of their time.
The 1937 edition of "Firelight" is an incredible piece of art. Typical of Derrydale Press books of the time, the color plate of a woodcock in flight makes an absolutely beautiful cover. The text is large and the pages are of high quality for their time. Art work by Lynn Bogue Hunt is spectacular. Only 950 individually numbered copies were printed in this first edition, making it quite a rare piece. Too bad Spiller didn't sign them all! The copy I briefly got my hands on was number 708, and is property of a library in Pennsylvania. I've seen another copy recently available online for $175.
Premier Press apparently published 3,000 copies of "Firelight" in 1985.  Another limited edition of 2,500 copies was printed by Derrydale in 1992.  Both of these editions are more readily available, with a typical price starting in the neighborhood of $40+.  Literary Licensing is apparently making a new reprint available at a lower cost (see link below).
"Firelight" is a great book and a joy to read. I highly recommend it. If you're a Burton Spiller fan and want to see a different aspect of his writing, or if you like outdoor sporting fiction in general, pick up a copy. If you get a chance to read some of his stories by the fire, I'm sure old Spiller would appreciate it.