I've been getting more "into" bird hunting lately, meaning I'm making lots of trips to the field, while also spending more of my reading time perusing upland hunting material. I've recently taken a look at "Shooting Sportsman" magazine. Just a few publications are devoted to bird hunting and shotgunning, and "Shooting Sportsman" is up there with the best.
Started in 1987, and now owned by Down East Enterprise, Inc. of Rockport, Maine, "Shooting Sportsman" claims to be the "largest magazine dedicated to wing shooting and fine guns in the world".
Here's an excerpt from the "About Us" section of their website:
From upland gunning and waterfowling to sporting clays, Shooting Sportsman celebrates all that is good about wingshooting: its traditions and the people who keep them alive, the birds and the bird dogs, and the exciting places to visit along the way—be they around the corner or around the world. It also honors the craftsmanship inherent in every fine shotgun, with stories about the best American, British and Continental gunmakers, engravers and custom gunsmiths.
The magazine is published 6 times a year, with an annual subscription costing a little over $30.
With my current addiction to magazine subscriptions of all kinds, I may or may not be subscribing soon.  However, luckily for myself and other financially strapped sportsmen, there is another option – "Sporting Shot".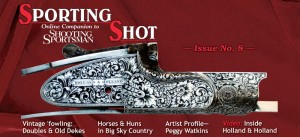 "Sporting Shot" is the online companion to "Shooting Sportsman", and is available free of charge!  In today's economy and with the changing nature of media, it's tough to maintain profitability with a monthly magazine.  However, many readers want more from a magazine than just 6 issues a year.  By publishing the free, online and interactive "Sporting Shot" in the alternate months when "Shooting Sportsman" isn't new, Down East may have found the best of both worlds for their readers.  "Sporting Shot" is also sure to expose new readers to the magazine.
To learn more visit www.shootingsportsman.com.