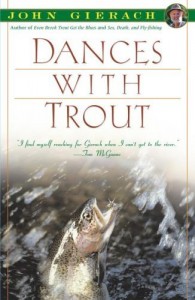 I was fortunate enough to find a copy of John Gierach's Dances With Trout at my local library last month.  Gierach's eighth book, published in 1994, includes 18 short essays on fishing and hunting, including many adventures of Gierach and friends in local Colorado, as well as a trip to Alaska and an adventure in Scotland in search of Atlantic Salmon, and flyfishing for bass in Texas.  Dances With Trout contain more hunting material than the typical Gierach book, including hunting for hares and mountain grouse in Colorado.
This is only the second Gierach book I've read, and I'm still familiarizing myself with his style of writing.  I'm amazed at the fact that Gierach is able to make short essays on fly fishing trips so interesting and satisfying to read.  On the surface, the stories seem so simple to me, but the more I read them, the more interested I am in reading more.  He includes insightful reflections on things often overlooked by most anglers, and is able to put to paper things that have run through my mind while fishing but have always been difficult for me to interpret and express.  Each story ends abruptly, the last sentence always leaving an impression on the reader.
If you're a fly fisher or just enjoy reading about it, be sure to pick up a copy of Dances With Trout.  You won't be disappointed.  Having just finished it, I'm already thinking about the next John Gierach book I'm going to read.