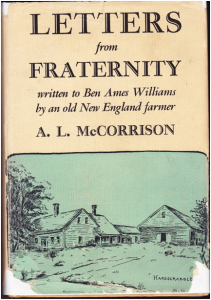 summary by Greg Tuttle
This wonderful book was published 1931 and is written in the form of letters to Maine author Ben Ames Williams from his friend and hunting and fishing companion Bert McCorrison.  Williams first met McCorrison in 1918 and they forged a friendship which mostly centered around the outdoors. Williams credited Bert with opening his eyes to the subtleties of the outdoors which enriched his life, and provided Williams with many published stories.
Bert was the "Chet McCausland" in his "Fraternity" stories, most of which appeared first in the Saturday Evening Post and later in various books. Bert was born in 1855 and, except for a trip to the Bay of St. Lawrence, spent all of his life within a 40 mile radius of his birth place. His letters are about his life on the farm, about bird hunting and trout fishing, the arrival and departure of winter, the life and death of his beloved bird dogs, and many other aspects of nature and the outdoors. It is clear he was a man who loved and appreciated all of nature. This book is also a journal of a now extinct way of life.  In Ben Ames William's book "The Happy End" published in 1939, there is a story entitled 'Rendevous', where Ben pays tribute to McCorrison. This story is also in Ben Ames Williams' book, "Fraternity Village" under the title "Chet McCausland of Fraternity". It is a beautiful piece and well worth reading.
This book is somewhat common and can be found at many second hand bookshops. It also came out in paperback in 2007, so it is readily available. It is a wonderfully written book, not just a tribute to a man, but to a way of life. Read it and you will see.