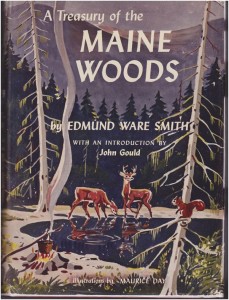 OVERVIEW, written by Greg Tuttle
"A Treasury of the Maine Woods" was Edmund Ware Smith's seventh book and came out in 1958.  It was the second published by Frederick Fell Publishers.  Smith dedicates the book to his son James.  With an introduction by Maine author John Gould, it promises to be a good one.  It is also the first book with Maurice Day illustrations.
The very first story, "The Magic Woodsman" is a poignant tribute of sorts to Pop Thornton.  It is a story about the drowning of Smith's son, and how Pop helped them through the painful time.  There is a great "Dobsis" story entitled "Saga of Third Chain Cabin", a lot of hunting, fishing, and camping/canoeing stories, and even a Digsy Jones story entitled "The Wish Book Trail."  "Reunion With Pickerel" is a nice father/son story.
This book had at least two printings and another one done in 1977 by Downeast books.  So it is out there, and at a reasonable price, and makes a great read for anybody interested in the Maine outdoors.  As usual, most of these pieces appeared in various periodicals of the day.  Smith's genius and his love for the out of doors really comes though between the covers of this book.  I can't think of better writer of the Maine woods.
CONTENTS, written by Jeremiah Wood

Introduction by John Gould
PEOPLE AND PERSONS
The Magic Woodsman – Smith describes Pop Thornton, the well-respected woodsman and caretaker of his father-in-law Henry Dennison's camp on Dobsis Lake.  Thornton was a huge influence on Smith in his early adult years.
My Father's Mighty Mountains - Speaking of influence, Smith's father had great influence on him, which seems odd considering that he forbade Smith from using his last name when he decided to become a writer.  This story speaks about the dreams his father had about climbing tall mountains and conquering wild places.
The Minstrel of Southern Maine – This piece is a profile of a unique Maine musician.
Who Wants Tranquillity? - Smith describes experiences shared during family visits to his cabin on Matagamon Lake.
The Saga of Third Chain Cabin - This is arguably the best essay Smith ever wrote.  It tells of a hunting camp that was legendary to its members in its time.  The story is told toward the end of the camp's life, and in the declining years of its hunters.  Smith and his father-in-law are making a final visit to the cabin on Third Chain Lake.  The cabin was built in 1926, and like most traditional Maine deer camps, it was hunted in each fall for twenty years.  Over the years, though, hunting partners had dropped out one by one.  Smith cleans up in the cabin while Pop Dennison hunts.  He thinks back to the times they had in the hunting camp over the years, and unique experiences shared by each hunter.  The story is filled with nostalgia.  In the end, the reader is filled with the image of the old cabin sinking back into the ground.  It couldn't have been written any better.
BIRDS, BEARS, DOGS AND MEN
The Bird with the Lonesome Voice - The common loon has always had a place in the heart of Maine outdoorsmen.  Smith writes a short essay about the bird.

I Don't Believe a Word of It! - The Maine woods are filled with stories of bears and men.  Many are true, many are difficult to verify.  Smith tells of several unique bear stories he has heard and experienced in the woods over the years.  What's unique is that these stories, to the best of his knowledge, are all true.

Of Dogs and Men - This essay attempts to partially describe the close relationship between man and dog in the hunting community.

My Game Warden Friends and Outlaw Companions – The One-Eyed Poacher was the most common and most popular character Edmund Ware Smith wrote about.  This story explains the background behind the development of the One-Eyed Poacher stories and reveals some intriguing true stories (with names changed, of course) about poachers and game wardens in the Maine woods.
FISHING
Mr. Smith Meets the President – Apparently outdoor writers were a pretty big deal in Smith's day, and apparently certain U.S. presidents spent more time fishing then than they do nowadays.  Anyway, this story tells of the chance Smith had to go fishing with President Eisenhower in 1955.

Lessons in Lost Fish - We've all lost big fish, and the fish we lose always seem to be bigger than the ones we land.  Smith tells of certain memorable experiences gained from lost fish.

Sorrow at Sunkhaze Stream – This is an incredible true story about an experience shared by Smith, his son, and his father-in-law at the Sunkhaze Trout and Salmon Club in 1932.  Smith tells the story like it should be told, and you'll really love the ending.

Reunion with Pickerel – Many a boy in central and downeast Maine has grown up spending some time fishing for pickerel.  It's Smith's son Jim's desire to relive his childhood pickerel experiences that brings them to First Chain Lake to cast plugs to pickerel.  Many of us can think back to our boyhood fishing experiences and wish to return, if only just once.

Trout Stream Legacy – The bond between father and son is truly described in the lines of this essay.  It's a heartfelt passage that recounts the memories Smith and his son shared over the years.  Now that his son is grown and Smith is advancing in age, he wants to pass on this legacy, a shared memory of trout fishing together.

EARTH, WATER, MOUNTAINS AND SKY

First Footprints – It's short, but this is one of my favorite essays (along with Trout Stream Legacy and The Saga of Third Chain Cabin).  This writing describes the feeling of owning land and living out the dream of doing something productive with that land.  I can really relate to Smith when reading this.

One-Lane Roads to Nowhere – Okay, I may have spoken too soon when pointing out my favorite essays.  This one is amazing.  It talks of the old logging roads cut through the woods during the horse logging days of the past.  This reminds me of Smith's essay written elsewhere about old logging dams and the trout fishing pools they created.  Most of the roads and the signs of historic activity described by Smith are long since faded away and replaced with new growth and several rotations of timber harvest.  But in some places you can find the one lane roads to nowhere that Smith describes.  The story is truly nostalgic.

New England's Last Wilderness – While I've never visited it, Smith's description of the valley of Wassataquoick Stream in Maine's Baxter State Park ensures that I will make the trip there someday.  The essay was written while Percival Baxter, founder of the park, was still alive at 81 years of age.  True history!

An Ode to Spring Fever - All Mainers know the restless feeling of spring fever, and Smith accurately describes the common desire to see spring again.
UNCLASSIFIED

The Battle of the Berries - Blueberry picking was a big part of Downeast Maine in Smith's day, and this segment describes it briefly.

How to Predict Maine Weather – You can't!  This piece describes it well.

Fond Glance at New England – Smith briefly describes life in New England based on his experiences.
The Adventure of Morning – A lot happens at daybreak.  Some of it is described here.
The "Wish Book" Trail – This piece is probably the one I could relate to most when reading this book as a youngster.  It describes the fascination we have with hunting, fishing and camping supply catalogs, the dreaming that can come from reading them, and the excitement of planning an outdoor adventure.  It's another one of my favorites.
Weird Sounds in the Wilderness – They say no animal in the Maine woods can really hurt you, but that doesn't calm the imagination of a newcomer who can't identify all of the strange sounds he or she hears during a night in the woods.
The Love Life of Paul Bunyan – An interesting tale!
CAMPING, COOKING AND CANOEING

Camp Cook Tells All – Cooks in the lumber camps, and hunting camps, had a unique way about them.  Smith tells about them in this short essay.

Canoes That Have Upset Me - Canoes are a big part of fishing, hunting and transportation in the Maine woods.  Smith recalls the many canoes he has owned over the years.

So-long, Oldtimer! – This story tells of visitor to Smith and his wife's camp and the desire of the 74 year old man to go out fishing and camping on his own.  It's a pretty interesting story, and ends well.

Ghosts of Old Campfires – Smith ponders the importance and meaning of campfires in the woods.
CONCLUSION

How to Say Farewell - This is a great way to wrap up the book, with thoughts on how to say goodbye.
Overall, A Treasury of the Maine Woods is an incredible book.  It's unique from most other Smith books in that it doesn't include the fictional stories that played a major part in making him famous.  However, it makes up for this with thoughtful, heartfelt reflections on aspects of the Maine woods that so many can relate to.