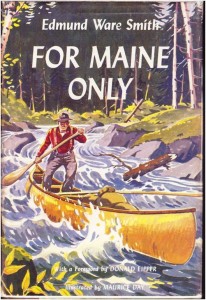 Written by Greg Tuttle
"For Maine Only" is Edmund Ware Smith's ninth book and is my favorite of his, namely because it "has it all". This book contains some of Smith's earlier short stories like "Last Trip Together", "The Tenderfoot Who Wasn't" and "Weather Prophet". (Sharp eyed readers will notice slight differences in these stories compared to the when they appeared in the Derrydale editions.) Some great One-Eyed Poacher stories are included as well, like "The One-Eyed Poacher Conquers Holiness" and "Diary of Death". This book also has a very good "Dobsis" story (based on events around the woods of the Dobsis chain of lakes in downeast Maine) entitled "A Rifle Named Sleigh Bells", and a story or two about Smith's own camp on Matagamon Lake.
For the first time in book form we find a story about the famous "Jake's Rangers". The Rangers were a group of friends (including Smith) in the town of Damariscotta, Maine who were dedicated to the outdoors. The story "Jake's Rangers vs. Spring Fever" is a great one. Once you read it you will be hooked. The leader of the Rangers was Maurice" Jake" Day, a noted artist and naturalist. He also drew the illustrations for this book and also did the dust jacket. The April 1959 issue of Field and Stream has this story, only it is titled, "A Count-Down For Trout". It has some really nice photos of the Rangers.
In the section "Maine Variety Package" there is a story called "The Outermost Henhouse", an obvious take on the Henry Beston book. The setting is Smith's camp on Matagamon Lake, which is a beautiful place. I stayed at his camp a few years back and it is exactly as described. I also had the pleasure of meeting Mac Day of Jake's Rangers, and he was truly as fine a gentleman as could be. Most of these stories appeared previously in magazines like Field and Stream, Outdoor Life, Esquire, Colliers, True Magazine, and Ford Times.
If you could own just one Edmund Ware Smith book, this would be it. It was originally published in 1959, and reprinted a few years later in an undated edition. It is a pretty easy book to obtain. Edmund Ware Smith was truly a brilliant writer.
Here are the contents of the book:
Foreword, by Donald Eipper
Part One: Woe in the Wilderness
Last Trip Together
The Tenderfoot Who Wasn't
Old Lady in Waiting
Weather Prophet
Owed to an Old Woodsman
Part Two: Meat, Fish, and Potatoes
Jake's Rangers vs. Spring Fever
A Rifle Named "Sleighbells"
The Fish With a Sense of Humor
The Vanishing Trout Pool
Potatoes: Maine vs. Idaho
Part Three: Religion, Rum, and Rascality
The Warden, the Rum and the Preacher
Diary of Death
The One-Eyed Poacher Conquers Holiness
Man Hunt in Mopang
Breath in the Afternoon
Part Four: Pine Tree Towns
Dahlonega, Georgia
Greenville
For Eastport – Till We Meet Again
Poland Spring
Part Five: Maine Variety Package
Spring Drive
The Genteel Interval
The Outermost Henhouse
America's Voice Has Changed
The Snorkel Bird
Summer Hazard