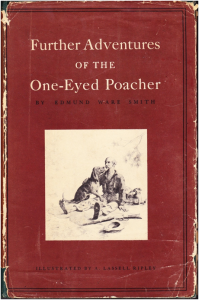 Written by Greg Tuttle
"The Further Adventures of the One-Eyed Poacher" is Edmund Ware Smith's 6th book and probably his most sought after title. It is the only book he put out that contained just One-Eyed Poacher stories. Put out in 1947 by Crown Publishing, it is much like a Derrydale Press book, with similar binding and type. It was even put out in a signed and numbered edition of 750, which is somewhat scarce. The trade edition came out with a nicely illustrated dust jacket. A. Lassell Ripley did the illustrations for this volume, as he had for several other Smith books. The book starts out with a very heartfelt dedication to Smith's father.  One can see the influence this man had on his son.
The Outlaw of Mopang Forest - This story explains why Jeff Coongate hates game wardens. Coongate finds a lost child in the woods and it ends up being the son of the game warden who has it in for Jeff. They all end up in court,  and you will understand why there is no love lost between Coongate and game wardens.
One Eye for Two - A boy named Travers Benning wants to go duck hunting, but he is blind.  Jeff Coongate takes him under his wing because he feels for him, since he has only one eye. It is a very touching story.
Uncle Jeff Reforms - In this story we learn that Jeff Coongate does have a conscience. Jeff is "drafted" in to the Civil Air patrol, and while in uniform he doesn't feel right about poaching, at least not until after the war is over.
By Advice of the One-Eyed Poacher - This is a story that is told in the first person by the author. He has written a few of his stories this way, and you will like how they are written. It is deer season and the author looks up Jeff Coongate to inquire about where he might find a deer. Jeff sends him on what he thinks is a wild goose chase, but it ends up with him in Zack in jail.
Jacklights For Two - Jeff  Coongate is on the wagon, the milk wagon. Seems his cast iron stomach is giving him trouble, so no more liquor, just milk, and he detests it. He even goes as far as to get his own cow, Myra. He wants to be rid of it but can't bring himself to do anything about it directly. This is where his arch enemy, Roscoe Carrion comes in to play. Roscoe ends up doing Jeff a favor (unbeknownst to him of course), but Jeff ends up in jail.
Slippery Sinner - Jeff Coongate and Zack Bourne wake up in Zack's cellar with a king sized hangover in a state of amnesia, (almost)…and Jeff's rifle is missing. Things start coming back to them slowly. In this story you will see that chivalry is not dead with Uncle Jeff.
The One-Eyed Poacher Wins a Medal – Jeff Coongate is lonely. Zack has gone south for the winter, and Jeff's mind starts to dwell on the comforts of the Mopang jail. But he can't get himself arrested, no matter how he tries. And to top it all off he saves Tom Corn's life, (of course Coongate caused the situation wherein the game warden had to be rescued).
The One-Eyed Poacher's Legal Salmon - Jeff Coongate is talked into going on a salmon fishing trip to New Brunswick, but instead of a fly rod, he brings along his salmon spear.  The real reason he goes, though, is because Hernando's Fiery Dagger rum is hard to get in Maine, and he understands that New Brunswick has an adequate supply of it. Unfortunately he's wrong. The leader of the salmon expedition organizes a little contest: whoever catches the largest salmon will win the prize of a bottle of Hernando's Fiery Dagger rum. Well, of course the group of salmon fishermen are all fair minded fly fishermen, and they look down on Jeff's unseemly methods of catching a salmon. So Jeff resorts to fair play (in a fashion), to win the prize.
Manhunt in Mopang – An escaped murderer in on the loose in the Mopang country. Since all the area law enforcement is otherwise occupied, Jeff Coongate thinks that he has a free field to do what he wants, which would be poaching. That's until one of the State's bloodhounds gets lost and finds Jeff. Jeff is immediately smitten with the hound and names it Zibe, after one of his old hounds. He keeps it hidden in Zack's cabin and goes off to help to find the fugitive. He finds the game warden and an injured Mounty, but Zibe follows him also. Game warden Tom Corn tricks Coongate and they end up finding the escapee, and poor Zibe goes back to his rightful owners, the State. But Jeff ends up with Zibe in the end.
Justice Comes to Jeff Coongate – Jeff Coongate is in jail, but claims he is innocent. This is another story with Jeff's nemesis Roscoe Carrion. After sampling some Gates Ajar whiskey, which is claimed to be a byproduct of embalming fluid, a night time target shoot is arranged. Roscoe "plants" a dead buck in the area, informs the warden and the trap is set. But after an investigation Tom corn discovers Jeff's innocence. Jeff is grateful and even shakes the game warden's hand.
"The Further Adventures of the One-Eyed Poacher" is an excellent book. It is pricey when you find it, but it's worth it. It was only done in the two editions: the "trade" edition in a green cloth binding and printed dust jacket, and the limited edition in a sort of mulberry cloth that was signed and numbered, and issued without a dust jacket. The illustrations are excellent. You will treasure this book when you read it, and if you have a chance to buy it, make sure that you do!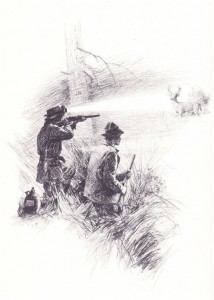 You can find the book by clicking on the link below. The link will take you to Amazon's site, where you may be able to find a cheaper copy than the one advertised here.