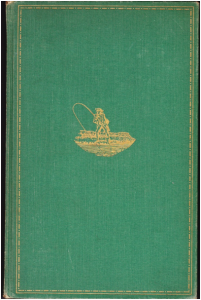 Greg Tuttle put together this summary on Tall Tales and Short, written by one of our favorite authors, Edmund Ware Smith.
Tall Tales and Short, Edmund Ware Smith's 3rd book, was published by the Derrydale Press in 1938.  In it he introduces his most famous and beloved character, Thomas Jefferson Coongate, known as The One-Eyed Poacher.  Along with the stories of the One-Eyed Poacher, there are also some other fine short stories.
The Moose Head at Mopang Grange – This story is definitely a tall tale of the Maine woods and how a moose head ends up on the wall of the Mopang Grange. Smith introduces many of his characters and places which will become familiar to readers in future stories.
The One-Eyed Poacher of Privilege – This story serves as an introduction to The One-Eyed Poacher. His poaching prowess and his scorn for game wardens is established. Also in this story there is an illustration of him, so readers get to see what he would look like.
Weather Prophet – A haunting story that takes place in Mopang. Dr. Delirious Musgrave is a very strange yet capable doctor, who refers to himself in the third person, which is very unsettling. He hates the cold but strikes off across a dangerous lake to save a woman giving birth. Smith's description of the blizzard seems so real, the reader will feel compelled to put another log on the fire.
Two Tales of the Slewgundy Heater:
I: Girl in Camp - The main characters in this story are Les Morgan and a girl named Sliver. The Slewgundy Heater is a deadly pitch of water that is an important element to this story. Les works for Joe Keegan, Sliver's father. He is a guide, who is supposed to guide a father and son on a river trip. When Les finds out that Sliver is going, he tries to talk his way out of it, but that doesn't happen. It seems Sliver has had her eye on Les for a long time. Will she get her man?
II: The Great Indoorsman – This is a funny tale of a little man named Smokey Pascuma, the champion wood chopper of the East. Of course, when he announces that, it gets Chip Ash's dander up. And it ends with a log rolling contest through the Slewgundy Heater and somebody getting their comeuppance.
Old Medical Bill – This story is about a doctor who was a hopeless student of fly-fishing. After attempting to teach the doctor to fly fish, it turns out he is more fascinated with catching suckers than in catching trout.
Lat Trip Together - Here is a tale of a father and son's last trip down river. It's a well written tale that shows a son's love for his father.
Affair on Mopang Road – The main character in this story is Web Rivers. He is headed to Mopang to get a job. His plans temporarily change when he come across a car with two girls who got a flat tire. You will love the ending of this story.
The Time I Was Dying - This story is told from the author's perspective. It is a short piece, but it mentions a lot of Smith's characters, both real and fictional.
Old Lady in Waiting – Zack Bourne is Jeff Coongate's partner in crime. Jeff is a lifelong bachelor, but Zack is married to a devout Catholic, named Sarah, who is a city girl. Sarah is not used to the isolation or to Jeff Coongate. Sarah goes back home for a visit and brings back a tiny dog named Rosie for company. Rosie doesn't get along with Zack or his two hounds, at first anyway. But all's well that ends well.
Jeff Coongate's Perfect Crime – Uncle Jeff has a plan, and this time he wants to get caught so he can have a comfortable winter. But he loses track of time and loses his reputation with the game warden.
Dark is the Cabin – This story is about an 'old man" and his friends. They are going fishing the next day, and Jeff Coongate is to help with the guiding. It is night and they are all sleeping, except for him. He is listening to the night sounds and thinking about the river and the Mopang country.
Tall Tales and Short is a landmark book. It reinforces Smith's ability as a short story writer, and for all fans of The One-Eyed Poacher, it is a must read. The first edition, printed in a run of 950 in 1938, is readily available online for a price. It was also reprinted in 1991 as a facsimile of the first edition, which is also readily available and affordable.