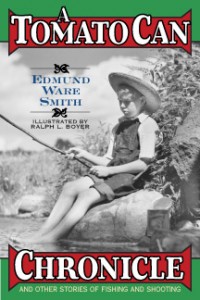 In 1937, Edmund Ware Smith's first book of short stories came together in the form of "A Tomato Can Chronicle".  Published shortly after his first and only novel ("Rider in the Sun"), this was the first of a long line of books featuring some of his best outdoor stories.  The book contains an interesting combination of both factual and fictional stories, all with at least a hint of comedy and a display of Smith's love for the outdoors.  Of all the Smith books I've read, I think this one contains the most variety in story types.  It was also written at a younger time in his life, and this is evidenced by the way he portrays himself in many of the stories.
A total of twelve stories are included in this volume.  I'll try to give a quick recap of each.
A Tomato Can Chronicle hearkens back to Ed Smith's Massachusetts childhood, and the experience of fishing with cane poles and worms in Neyhart's pond with pal Digsy Jones.
The Tenderfoot Who Wasn't is a fictional story about two businessmen from Boston who travel up to Maine for a guided fishing trip.  The story dissects the incredible difference in personality between these two men, and speaks of the goodness and potential that a man can have despite his lack of experience in the outdoors.
Lost: Two Reputations Men are outfished by a woman.  It isn't the first time that's happened, and it sure won't be the last!
Owed to My Son is a heartfelt message from a loving father to his son, and a reflection on the legacy they share.  Smith wrote a piece very similar to this one in his book "A Treasury of the Maine Woods".
Two Climaxes in the Angling Career of Mr. Samuel Q. Busby:
I.  The Hero Worship of Sam Busby introduces as funny a character as I've read about in a while.  Busby is…..well, you just have to read it to find out the type of person Busby is.  In his worship of a fellow fly fisher, he finds himself struggling to catch a big trout on the water, and learns something about his hero that is, to say the least, quite a letdown.
II.  The Uninvited Pest In the second story told to Ed Smith by the fictional Sam Busby, Sam is tormented by a pest in the form of a seven year old brat he's forced to fish with.  It's pretty hilarious.
Lo, the Long Brown Ridges chronicles a hunting trip with Smith, his father in law, and another companion at their beloved Third Chain Lake cabin.  It's deer season, and Ed's father in law Henry (to whom this book is dedicated), has been down on his luck for years.  At the risk of ruining it for you, I won't spill too many details, except to say that someone shoots a big whitetail, and someone else has the experience of a lifetime.
Pop's Day Off Pappy Thornton, a friend and companion that Smith waxes eloquent about in many of his other books, hasn't taken more than a day off in years.  Smith and others convince him to take the day off pickerel fishing.  And Pop, a throwback from the old market fishing days, decides he wants to fish his own way.
Christmas For Two is a great work of fiction.  It's heartfelt, with a lot of sadness and a bit of hunting and humor mixed in.  The ending is great.
Vancouver Island: An Insular Report details a fishing trip Smith made to the Island to fish with some big wigs, and a man that just can't stop talking about that record steelhead he almost caught.  The story pokes a little fun at a report done on the island, and explains that the real Vancouver Island can't be summed up in statistics.
Song of Solomon is a fictional story completely unrelated to any other in this book.  It's about preachers and fox hunting with hounds….quite interesting, and another great ending.
The Old Men Look Back is another story set in the Maine woods in the vicinity of the aforementioned Third Chain Cabin.  Smith is getting to be middle aged, and his father in law is advancing.  His adventurous 20 year old nephew is along, pushing the men to go on long canoe trips and do things their old bodies don't agree with.  In the end, though, the old men get theirs.
Overall, A Tomato Can Chronicle is a great Edmund Ware Smith book.  They just don't write 'em like this anymore.  The original printing of the book can be quite hard to find, unless you're willing to pay a hefty price.  It's my understanding that only 950 copies were originally printed.  A 1991 Derrydale Press reprint produced a limited edition of 2,500 copies.  I was lucky enough to get one of these 2,500 copies as a Christmas gift from my wife (she knows me well!).  I think another printing took place in 2000.  The link below should provide you with a source where you can get a copy of your own.