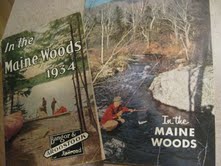 It made perfect business sense. In fact, it was probably genius. Hordes of potential customers throughout the northeastern United States were eager for more information about this vast forest land in northern Maine and the abundant fish and wildlife that were there for the taking.
That was probably the thought process behind the creation of In the Maine Woods, a publication produced and distributed by Maine's Bangor and Aroostook Railroad to lure and guide potential rail passengers to the roadless forests of the Pine Tree State.
When we think of railroads today, most of us conjure up images of timber, processed wood products and fossil fuels running up and down the rails. But in the early days of the railroads, when roads and vehicle travel were scarce, human passengers made up a significant portion of the rail's business. Consequently, catering to passengers was important to the bottom line. Most of these passengers were sports, heading to the north woods to hunt, fish and canoe. They were from urban areas of the northeast, where modern work schedules and technological distractions had not yet become such a large part of the American life. Many had an abundance of free time to head north to the woods.
The now defunct Bangor and Aroostook Railroad was formed in 1891. Not long after, the first edition of of In the Maine Woods: A Guidebook for Sportsmen was published in 1900. The guidebook was a huge hit, and continued to be published during most years up until 1957. It was published under different titles in 1902 (In Pine Tree Jungles) and 1903 (Haunts of the Hunted), but remained In the Maine Woods every year it was published thereafter.
Reading through the old In the Maine Woods books today is a great experience. Each guidebook typically contained over 100 pages and was a comprehensive source of information for the potential sportsman. The cover art was always beautiful. Inside, numerous stories chronicled hunting and fishing adventures in specific river drainages and hunting areas. Pictures of fish, game, sporting lodges and beautiful scenery were present throughout. Numerous maps of lakes, streams and Bangor and Aroostook lines were provided to help plan for a potential trip. State hunting and fishing regulations for the year were included. The guide also provided the railroad's rates to transport sportsmen and ship their trophy fish and game back home. Finally, advertisements from guides, sporting lodges and other companies also took up a good portion of the guide.
The folks at the Bangor and Aroostook Railroad were true promoters. They knew their customer base and used In the Maine Woods to encourage folks to travel north on their rail cars. Numerous writers contributed stories to the guide, but nary a negative word about the hunting and fishing in northern Maine was mentioned. They worked to create an untarnished image of the Maine woods, one of a forest teeming with trophy fish and game ready to be taken.
In addition to their value from a pure entertainment perspective, the In the Maine Woods publications contain plenty of historical value. While many accounts of the north country's fish and game resources were surely exaggerated to help lure customers, pictures don't lie. Judging from the pictures of deer, trout and other critters, the hunting and fishing history, which you can follow through over 5 decades of publication, was very rich. Plenty of changes in fish and wildlife populations have taken place since the turn of the last century. Knowing the area today and reading about what it was like 50-100 years ago can provide some intriguing insight. For instance, herds of caribou roamed the north woods around the turn of the 20th century. These animals were described in the guide, and records of some of the first state restrictions of caribou hunting exist in early editions of the guide. The rise of whitetail deer populations is also evident. Prior to the introduction of landlocked salmon and smelts, certain lakes (which are now dominated by these newcomers) sported abundant populations of native lake trout, brook trout and whitefish. In fact, one of the early guides describes three different species of whitefish in the Fish River Chain of lakes, where only two are described today. Moose and bobcats were abundant, while Canada lynx were rare and coyotes were nonexistent. Such accounts can help provide important insight regarding long term trends in the area's fish and wildlife populations.
As you might expect, the In the Maine Woods publications have become quite a collector's item over the years. All of the editions are quite rare, but some are much more so than others. As with any other such item, rarity plays a large role in the purchase price or appraised value of a copy. Other factors determining the value of a copy are its condition, the presence of a foldout map that was included in many issues, and inclusion of certain advertisements or other items that collectors are looking for.
At www.inthemainewoods.com, you can find a pretty comprehensive list of years in which the guide was published with cover art available from most years. Starting a collection of In the Maine Woods publications can be both fun and challenging. I would recommend starting with www.ebay.com, where copies of one year or another seem to show up quite often. These typically range in price between $20-40, depending on factors mentioned above. Copies can also be found in places like old book stores, garage sales and www.craigslist.com.
Can't afford to purchase copies of the guide, or can't find certain issues? Another option is Google Books, where you can read the full version of many of the earlier copies in electronic format. Under United States copyright law, essentially all works published prior to 1923 fall in the public domain, meaning that they can be reproduced legally for public use. Google Books has scanned millions of books and magazines in the public domain that are available for free. Visit www.books.google.com and search for "In the Maine Woods". You'll find several old copies available for online reading or download in pdf format. These files can be used in many electronic readers, such as Amazon's Kindle, as well.
Sometime in the 1950's, road infrastructure and automobile travel began to take over the transportation monopoly once held by the Bangor and Aroostook railroad. The last version of In the Maine Woods was published in 1957 and passenger rail service was discontinued in 1961. This signaled the end of an important era in history for both Maine and the railroads in general. Luckily, In the Maine Woods is still available today as an important reminder of the good old days of hunting and fishing in the north.